03/11/2023
Power-to-X plant put into operation
The Danish Minister for Industry, Business and Financial Affairs, Morten Bødskov, called it world history when the energy and fibre network group Andel and the global biogas producer Nature Energy inaugurated the first plant in the world to commercially increase the production of biogas via electrolysis and biological methanation. The new Power-to-X plant was built in just one year.
Andel and Nature Energy's work with the green transition has reached a crucial milestone. In a partnership formed in the autumn of 2022, the two companies have invested DKK 100 million in a biological Power-to-X plant in Glansager on Als in Denmark, which is now ready for production. Here, Andel's electrolysis plant converts excess electricity from the sun and wind into hydrogen that is fed into Nature Energy's methanation plant, where it combines with CO2. It forms e-methane, thereby increasing biogas production from the existing biogas plant and reducing the amount of CO2.
When the plant is fully operational in the spring, the hydrogen produced will boost Nature Energy's production of green gas by 12,000 m3 of gas per day. As a comparison, a detached house uses approximately 1300-1500 m3 of gas per year.
The Minister for Industry, Business and Financial Affairs, Morten Bødskov, turned on the tap at today's inauguration so that hydrogen could flow from the electrolysis plant to Nature Energy's tanks, and the Minister sees huge potential in the new technology:

"A piece of world history has been written today in Southern Jutland. Als is the first place in the world to produce e-methane biogas for commercial use, which is the kind of innovative thinking that will help drive the green transition forward because here we have a textbook example of what close collaboration between knowledge institutions and businesses can create. The entire southern part of Jutland is already a green energy metropolis, and with today's opening, the region has a brand that creates growth and jobs. This is a crucial and important step towards a green future for all of us," says Morten Bødskov, Danish Minister for Industry, Business and Financial Affairs.
For Mayor Erik Lauritzen, the inauguration and the plant represent another step towards reducing carbon emissions in Sønderborg Municipality.
"A big thank you to Nature Energy and Andel for your belief in this Power-to-Gas plant, which you have placed here in Sønderborg Municipality right next to Nature Energy's biogas plant in Glansager. With the Power-to-Gas plant, the Sønderborg area will significantly reduce the carbon emissions in the municipality, where we already have a 57% reduction in Sønderborg Municipality. Many are already looking in our direction to find the right solutions, and we can benefit from this - not least among companies - when we can show the rest of the world how the climate transition can be realised and thereby create growth by exporting green solutions."
Andel has an ambition to be at the forefront of society's transition to a greener future and has invested approximately DKK 50 million in the plant. For Jesper Hjulmand, CEO, the partnership is an example of how increasing interaction between different sectors in the energy industry can effectively tackle one of the biggest challenges facing the world, the climate crisis.
"We must fight climate change. Now, and we do this by accelerating the green transition. That is why we are testing green technological solutions in collaboration with, for example, Nature Energy, so we can learn more about how we can best and fastest contribute to lowering our total carbon emissions and end the climate crisis."
In total, Andel will invest DKK 90 billion in the green transition up to 2035, and the investments will be used to install 1 GW of electrolysis, among other things. The Power-to-X plant in Glansager is the first step along the way.
For Ole Hvelplund, CEO of Nature Energy, the plant marks not only a milestone in the development of green gas on an industrial scale but also a glimpse into the future:
"As an industry, we are very young and have existed for less than 10 years. That is why we are an industry that is constantly evolving, and Denmark is at the forefront, which also means that we haven't yet realised the full potential of this circular form of energy. The plant here in Glansager is proof of just how central a role organic waste and biogas play in the green transition."
Facts
The technology at a glance:
Biogas is extracted from organic waste from households, industry and agriculture and consists of CO2 (carbon dioxide) and CH4 (methane), which can replace natural gas that can be extracted from underground. Hydrogen is mixed with the biogas and combines with CO2, which creates CH4, also known as e-methane, because it is made by electrolysis.
This way, the amount of energy generated from the same amount of organic waste increases. A particular benefit of the plant in Glansager is that it can be switched on and off as needed and when there is a surplus of electricity from wind turbines, for example, which helps to balance the energy system by producing more green power than is consumed.
Part of the project is supported by Erhvervsfyrtårn Syd (Business Beacon South). The funds come from the Danish Board of Business Development and the EU REACT programme.
The technology was demonstrated in collaboration between the University of Southern Denmark, the Technical University of Denmark (DTU), Biogasclean and Nature Energy as an industrial PhD and started in a test tube in a laboratory in 2019.
Perspectives - hydrogen
The societal potential for green hydrogen is huge:
It paves the way for phasing out fossil fuels in heavy transport.
It creates balance and flexibility in the electricity grid, as hydrogen can be produced by electrolysis when there is an excess of renewable energy - helping the electrification of Denmark.
The competitive Danish wind and solar resources give Denmark an excellent opportunity to become a pioneer in the production and consumption of green PtX fuels.
Perspectives - biogas
There is also a large market for biogas both in Denmark and abroad:
Biogas can be used in industry and heavy transport where electricity is unavailable. Therefore, the technology and the new plant in Glansager have huge potential, and it bodes well for the green transition and Denmark's leading position in energy production and the development of future solutions.
For further information:

Morten Kidal, Press Manager, Andel, mobile +45 21 70 37 99, e-mail mkl@andel.dk
Rasmus Carlsen, Communication Director, Nature Energy, mobile +45 30 28 67 20, e-mail raca@nature-energy.com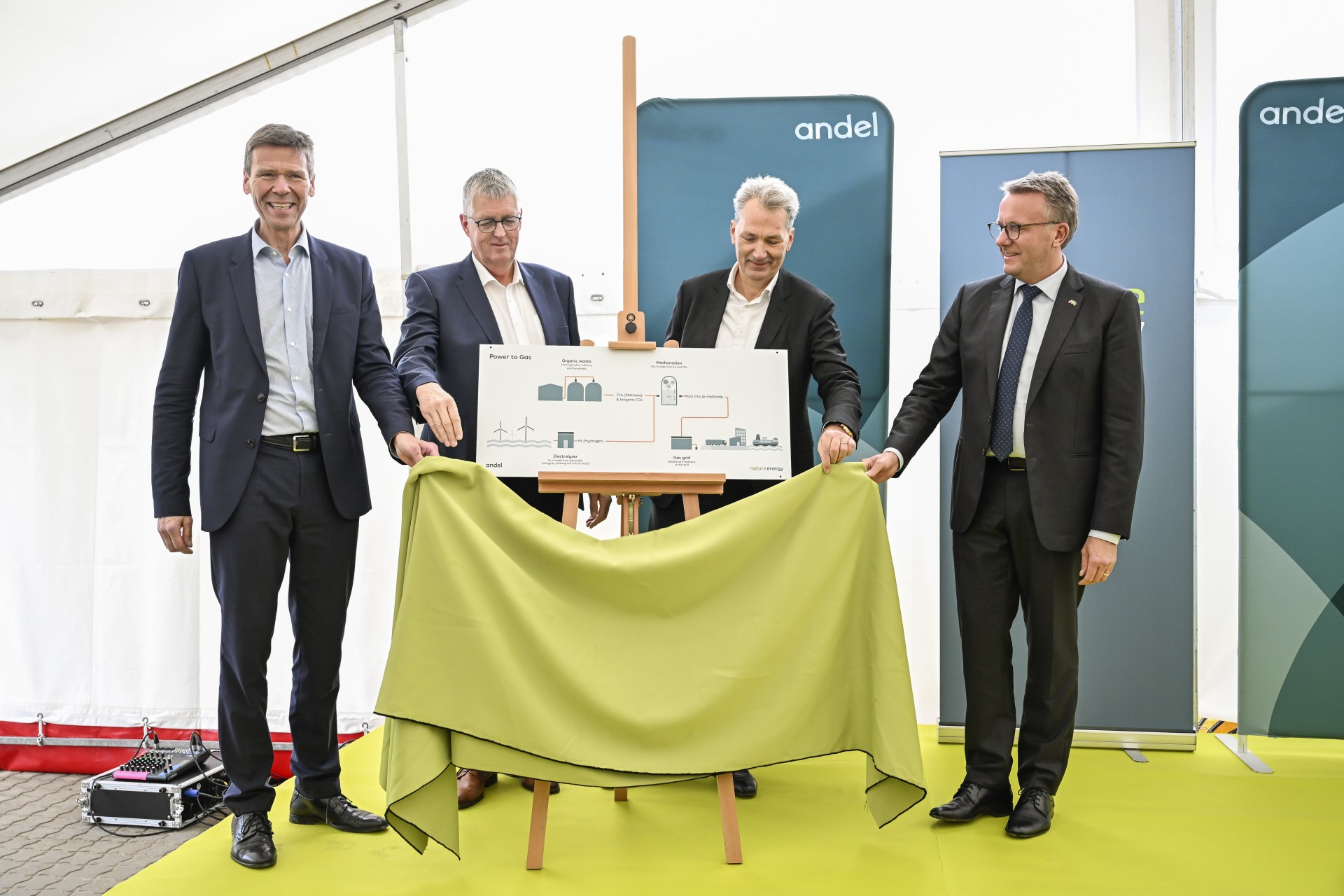 From left to right: CEO Jesper Hjulmand, Andel, mayor Erik Lauritzen, Sønderborg Municipality, CEO Ole Hvelplund, Nature Energy, and Minister for Industry, Business and Financial Affairs Morten Bødskov.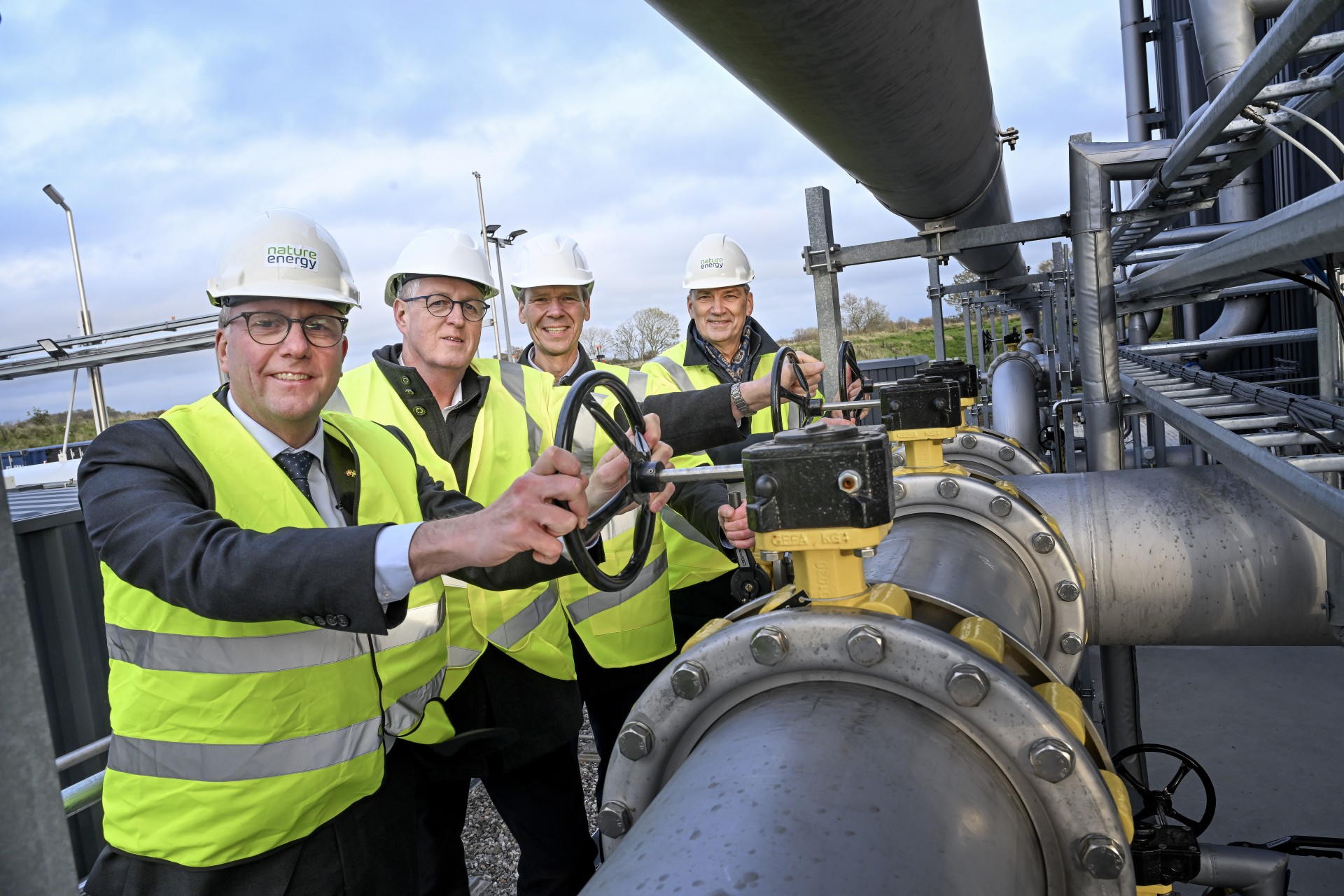 From left to right: Minister for Industry, Business and Financial Affairs Morten Bødskov, mayor Erik Lauritzen, Sønderborg Municipality, CEO Jesper Hjulmand, Andel, and CEO Ole Hvelplund, Nature Energy.
Rasmus Carlsen
Communications Director
E-mail:
raca@nature-energy.com